Do you remember the first game you have ever played on a phone? For most people, their very first contact with mobile gaming was the famous Snake, first introduced in Nokia 6110 and programmed in 1997. However, there is a lot more to know about the history of mobile games, and these games can be traced back to the earliest mobile phones. For the curious and the nostalgic, here is a brief history of mobile games and their development:
1994
First mobile game
The first mobile game ever was Tetris, launched aboard the Hagenuk MT-2000, a phone designed and manufactured in Denmark by the Hagenuk Corporation. At that moment, Tetris was already 10 years old and had conquered the world of gaming, coming right from the Soviet Union. The tile-matching puzzle video games requires players to stack tetrominoes (geometric shapes of four square blocks each) while making sure the figures don't stack to the top of the playing field. The game has remained immensely popular to our days and is still being played by millions.
1997
Snake is launched
Snake was launched for Nokia phones in 1997 and has been followed by multiple versions. In 2017, Nokia released Snake again with Nokia 3310, the modernized version, and with Facebook Messenger. The gameplay is very simple – the player needs to control a snake on a board which grows as it swallows dots. The snake grows longer and longer, until little place is left for it to move, and the player loses when the snake runs into the screen border or itself. The game is based on the arcade game Blockade, published by Gremlin in 1976.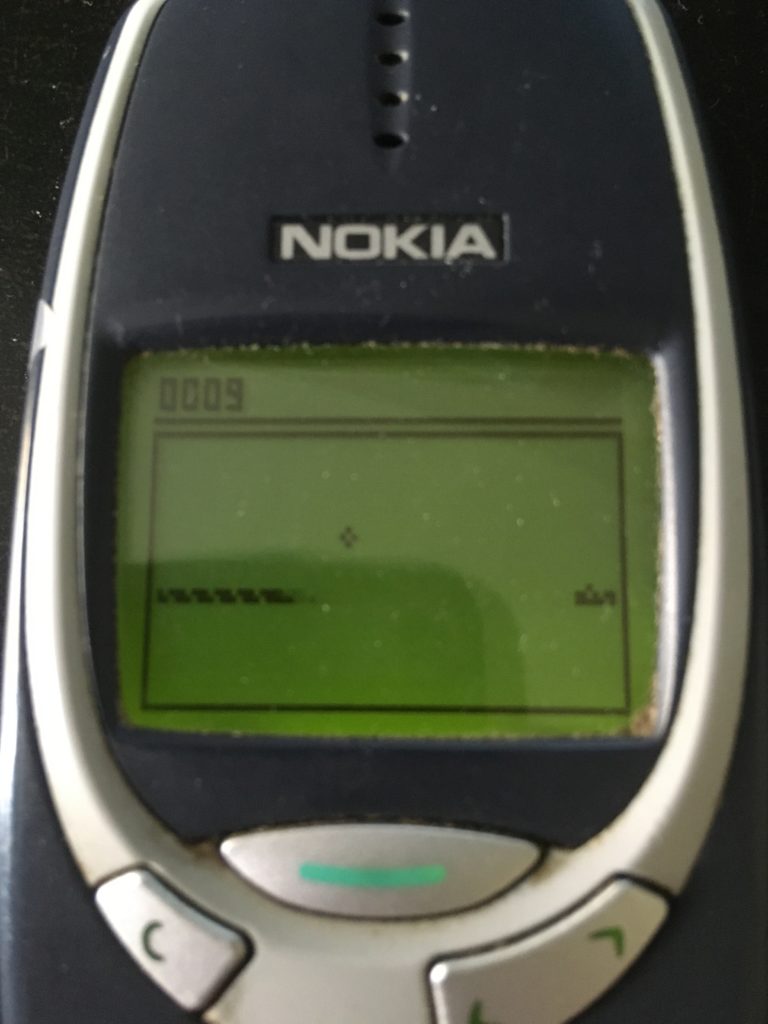 2002
Space Invaders becomes available on mobile phones
The arcade game was originally developed by Tomohiro Nishikado and released in 1978. The first mobile version was a Java game, and Space Invaders was perfect for this type of technology because it was overall simple and monochrome. 2002 was the year when the first mobile phones supporting Java were launched (such as Nokia 3410 and Siemens M50) and this development was announced as a revolution by Gameloft. The main competitor of Java was represented by WAP games, which were installed on phones with color screens and allowed a longer playtime.
2003
N-Gage is launched
N-Gage was a PDA combining the features of a telephone and a game system from Nokia, released in October 2003. It had a Symbian OS v6.1 and it attempted to rival the Game Boy Advance by including the mobile phone functionality. The device was a commercial failure due to its buttons that were not suited for gaming and to its shape resembling a taco, which led to its mocking nickname "Taco phone". There were 58 games available for N-Gage, such as Ashen, Call of Duty, FIFA Football 2004, Pathway to Glory, Spider-Man 2, Super Monkey Ball, Tomb Raider, and Xanadu Next.
N-Gage was launched in a period when mobile gaming companies were yet trying to discover what was possible on the market – many devices like this one from Nokia ended up as failed experiments and money losses for those companies. A few more years were needed for smartphones capable of serving as a reliable mobile gaming platform to be developed and made available to the public.
2007
iPhone is released
Apple released its first iPhone in 2007, with a 3.5 inch touchscreen display, and the moment marked the beginning of a new era for mobile gaming. Mobile games of the last decade have high definition graphics, impressive artwork, and real-life movement.
2008
App Store appears
The first major digital distribution platform was launched by Apple in 2008, providing software for iOS operated devices like iPhone, iPod Touch, iPad, the Apple Watch smartwatch, and the Apple TV. The store initially had 500 applications available to grow to 2.2 million apps at the beginning of 2017. App Store, unlike other similar services, has a rating system, where apps are rated from 4+ (apps with no objectionable material) to 17+, which are considered unsuitable to persons less than 17 years of age. Apps and games with no rating cannot be purchased on the App Store.
2009
Angry Birds is launched
Angry Birds was called by critics "one of the most mainstream games out right now" and "the largest mobile app success the world has seen so far". It was the first commercially successful mobile game and multiple spin-offs have been created for computer and console. It is one of the most downloaded freemium games of all time, as it has been downloaded for more than three billion times collectively. The original game, launched in December 2009, consists of shooting birds into green pigs' fortresses in order to protect their eggs. Aside from game spin-offs, Angry Birds has also inspired a film adaptation, toys, print publications, soft drinks, and amusement parks.
2011
The Sony Ericsson Xperia PLAY is launched
Unlike Nokia's N-Gage, this smartphone with elements of a handheld game console produced by Sony Ericson was a winner. Sony Ericsson Xperia PLAY had the design of a horizontally sliding phone with the slider below looking like the slider of the PSP Go. Xperia Play used Android as an operating system and was often the best solution for running emulators for older game systems, such as Atari 2600, Commodore 64, Game Boy Advance, Nintendo DS, Sony PlayStation Portable, and others.
2012
Google Play is launched
This digital distribution service operated by Google serves as the official app store for Android since 2012. Google Play contains more than just mobile games, and it has made a huge impact on the way mobile users find and download gaming apps. Applications are offered free of charge or at a cost, and users can download them without worrying about the security of their devices, unlike with other app sources. In 2017, there were 3.5 million apps published on Google Play. In 2013, the Google Play Games online gaming service was released, providing features such as multiplayer gaming capabilities, public leaderboards, cloud saves, and software development kits.
Nothing too spectacular has happened on the mobile gaming market in the last few years – what we witness is a further development of smartphones as gaming platforms. A significant breakthrough could be considered, however, the emergence of virtual reality mobile games starting with 2016 – users can enjoy a deeper immersion in the game world by adding VR headsets to their smartphones. Now we are just left wondering what will come next, and when.